On Golf Course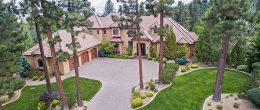 The following information is regarding the pictured Feature Property.
– Luxury Property located on 17th fairway
– $2,495,000
– 4 Bed / 4 Bath /  1 Half Bath/ Office 3 Car Garage
– 0.63 Acre with Mountain, Golf and Valley Views
– 5,094 Square Feet
– Click Picture for More Details
Location, Location, Location!: 6105 Lake Geneva
This luxurious custom built home within the exclusive gated community of Montreux sits on a ridge above the Jack Nicklaus signature 17th hole, overlooking Galena Creek and features captivation views of Mt Rose slide mountain & Virginia foothills. Enjoy this lifestyle on the beautiful landscaped terraced patio perfect for outdoor entertaining and featuring a sunken hot tub and outdoor kitchen. The floor plan is perfect for ease of living and elegant entertaining. Ground floor includes Great Room open to the Kitchen, Formal Dining Room, 2400 bottle temperature controlled Wine Cellar, sunny Breakfast Nook, Study and master suite. Three additional Guest Suites 2 upstairs. Some furnishings are also available under separate contract. Equity golf membership included. Contact Louise Simpson for more information.  775-750-1901
Home Features:
4 Bedrooms
4  Bathrooms
1 Powder Rooms
3 Car Garage
5,5,094 Square Feet
Built in 2000
Mountain, fairway and Valley Views
All bedrooms are en suite
0.63 Acre
2 Gas Log Fireplace
Fully Landscaped Property
MLS # 160002452
ADDITIONAL PROPERTIES FOR SALE IN MONTREUX:
HOMES
LOT
SIZE
SQ. FT.
PRICE
TYPE
COMPANY
BED/BATH
LEVELS
6415 Zermatt
307
.20 acre
3,040
$989,000
Cottage
Dickson Realty
3
2

 20705 Pomerol

 541

 .43 acre

 2,873

 $879,000

 Parc Foret

Dickson Realty

 31/2

 1

6090 Lake Geneva

409

.98 acre

7,704

$2,495,000

Custom

Dickson Realty

4

2

20685 Pomerol

539
.40 acre
3,297
$930,000
Parc Foret
Dickson Realty
1
 1
 20624 Chanson
538
.39 acre
3,297
$990,000
Parc Foret
Dickson Realty
3
1
 6070 Lake Geneva
 408
 .58 acre
 7,192
 $2,350,000
 Custom
 Dickson Realty
 4
 3
 6626 Gebser
 508
 .79
 4,397
 $2,400,000
 Custom
 Dickson Realty
 3
 1
 5955 Chambery
 111
 .73 Acre
 3,959
 $1,395,000
 Custom
 Dickson Realty
 3
 2
6105Lake Geneva
420
0.63
 5,094
$2,499,000
Custom
Dickson Realty
4
2
5710 Dijon Cr
168
.48 acre
7,800
$1,555,000
Custom
Dickson Realty
5 /
3
 5775 Lausanne
 20
 1.66 acre
 9,203
 $2,985,000
 Custom
 Dickson Realty
 4
 2
 4645 Alpes
 302S
 1.15 acre
 8,753
 $2,895,000
 Custom
 Dickson Realty
 7
 2
4705 Alpes
231S
.73
6,200
$2,650,000
Custom
Dickson Realty
5 /
2
$2,175,000 (+/-)
The Reno-Tahoe Open begins today until August the 5th 2012.  Last night we had our 12th Annual Concert on the Green featuring the Reno Jazz orchestra and Musician, Director & Producer Way Wallace. The picnic began at 4.30 pm with free Salsa lessons by Dancin! Performing Arts Center and the music went on from 5.30 pm to 7.30pm.  The concert was sponsored by Dickson Realty, Ashley Quinn, Ticor Title, Montreux, Country Financial, Hometown Health and Parc Foret our newest Village at Montreux.
The weather was fantastic… we had over 500 attendees with their children enjoying the outdoors and the music.
Montreux is honored to be one of only 33 events that are part of the race for the Fed-Ex Cup.  Some of  the world's best players are right here for us to watch and learn from. This tournament not only provides a national window on our community and course, it lends credibility to the Jack Nicklaus Signature Golf course, further establishing it as a top-ranked course.
On Tuesday July 31st, Monteux Cares First Tee Day, are hosting 100 children, ages 7 to 18 to demos, pep talks and autographs by the players, the always fun "skill challenge" and lunch all hosted by Montreux Cares. Montreux Members children are welcome to come and enjoy or volunteer.  The First Tee is a non-profit youth development organization teaching life skills through golf-based programs.
Salute Our Troops Patriots' Luncheon will be held for the 3rd year in the Clubhouse and the featured special guest speaker last year was Commander Kirk Lippold, USN (Ret), the commanding officer of the USS Cole during the attacks in Yeman int he year 2000 in which 17 Americans lost their lives.  This year 2012 the speaker will be Scott Bill and Sgt. First Class Leroy Petry, a Congressional meal of Honor recipient.  This Luncheon, is presented by the Grand Sierra Resort as well as key sponsor U.S. Bank and Wells Fargo. Sold out event.
The Reno-Tahoe Open has been a generous contributor to the community of Northern Nevada, donating $2.2 million to various charities and schools over the last 13 years.
For more information on the event go to www.renotahoeopen.com.  Here are a few golfers that will be attending, Stuart Appleby,  John Daly, Chris DiMarco, David Duval, Justin Leonard, Rocco Mediate, Chris Riley and many, many more top players.