Callahan Ranch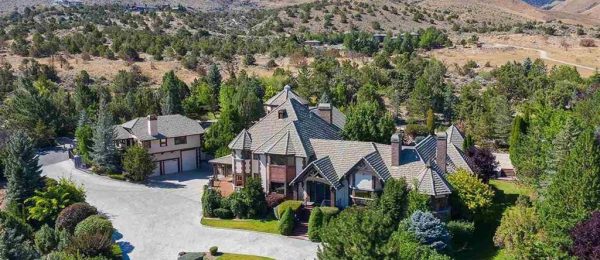 Callahan Ranch Real Estate and Homes
Callahan Ranch is perhaps one of the oldest neighborhoods in the Reno Area.  It is located on the Mt Rose Highway about 6 miles from South  Virginia intersection.  Older homes can be found here as well as new 2.5 acre ranches.  Some homes border the Montreux Golf and Country Club.  Great views of Mt Rose and only 15 minutes from the Reno/Tahoe International Airport and about 25 minutes to Lake Tahoe.
Since the 1860s ranchers have raised hay and run livestock on rocky but well-watered meadows astride the confluence of Galena and Jones creeks a few miles south of Reno. However, the site is now becoming more valued for its scenic vistas and its proximity to Reno and Lake Tahoe than for its suitability to agriculture. As development encroaches, an era is quickly ending.  Harry Callahan was born in 1895. He is the grandson of Matt Callahan, an Irish immigrant who owned the major brickyards in Carson City and Virginia City during the years of the Bonanza.   Even though he had no experience, he was determined to become a rancher, concentrating on dairying. Within a few years additional parcels of land had been acquired, and the ranch was providing a livelihood for the Callahan family, in whose possession it remains today.
Today only part of the ranch still exists, a huge area was sold in 1989 to the developers of Montreux Golf and Country Club,  however the old School house and the family Grave Yard can still be visited today.
Area public schools zoned for Callahan Ranch include: Hunsberger Elementary School, 775-851-7095, www.washoeschools.net/hunsberger, Pine Middle School, 775-689-2564, www.washoeschools.net/pine  and Galena High School, 775-851-5607, www.galenahigh.com.  Private Schools nearby:  Sage Ridge School.775-852-6222, www.sageridge.org and Bishop Manogue High School,775-329-0011, www.bishopmanogue.org.
Real Estate in this area can vary from very old homes to brand new ones, ranches as well as single family homes are abundant.  No HOA fees and no CCR'S in most of the Callahan area. For more information call Louise Simpson at 775-750-1901 or email at louise@montreuxreno.com