About Best-Performing Cities
How did US regional economies perform recently? What are the key factors driving their growth and decline? The Milken Institute's Best-Performing Cities series has tracked the economic performance of US metros for two decades using job, wage and salary, and high-tech gross domestic product (GDP) indicators. Metros are ranked on their performance, while indicators help identify the drivers behind their success or failure. With this publication, we hope metros will learn from others' experiences and enhance urban economies in the long run.
See the complete list of rankings for large metros.
See the complete listing for small metros.
Learn more about the methodology.
The 2020 Rankings
Top 10 Best-Performing Large Cities
Metropolitan Statistical Area /
Metropolitan Division
2020 Rank
2018 Rank
Change
San Francisco-Redwood City-South San Francisco, CA
1
4
3
Provo-Orem, UT
2
1
-1
Austin-Round Rock, TX
3
3
Steady
Reno, NV
4
11
7
San Jose-Sunnyvale-Santa Clara, CA
5T
2
-3
Orlando-Kissimmee-Sanford, FL
5T
7
2
Boise City, ID
7
12
5
Seattle-Bellevue-Everett, WA
8
8
Steady
Dallas-Plano-Irving, TX
9
5
-4
Palm Bay-Melbourne-Titusville, FL
10
57
47
Top 10 Best-Performing Small Cities
Metropolitan Statistical Area /
Metropolitan Division
2020 Rank
2018 Rank
Change
Bend-Redmond, OR
1
1
Steady
Grants Pass, OR
2
23
21
Logan, UT-ID
3
10
7
St. George, UT
4
2
-2
Coeur d'Alene, ID
5T
5
Steady
The Villages, FL
5T
20
15
Idaho Falls, ID
7
24
17
Gainesville, GA
8
3
-5
Sebastian-Vero Beach, FL
9
13
4
Bellingham, WA
10
17
7
Find Your City Using the US Interactive Map
The 2020 Best-Performing Cities index uses data from 2019.
Key Findings
San Francisco-Redwood City-South San Francisco, CA, regains the crown as the best-performing large metro after 2014. The skilled workforce, abundant venture capital, and innovation and entrepreneurial culture support regional high value-added industries, including the expanding tech and biotech industries. The metro's excellent performance in our five-year high-tech GDP growth (ranked first) illustrates this point.
Twenty-one top-performing large metros return from our 2018 Best-Performing Cities index. A substantial number of them are metros with dynamic tech sectors, including San Francisco-Redwood City-South San Francisco, CA; Provo-Orem, UT; Austin-Round Rock, TX; and San Jose-Sunnyvale-Santa Clara, CA. Others, like Reno, NV, continue to develop a diverse industrial base while experiencing rapid growth in the advanced manufacturing and technology sectors.
California secured four (San Francisco-Redwood City-South San Francisco, CA; San Jose-Sunnyvale-Santa Clara, CA; Oakland-Hayward-Berkeley, CA; and Riverside-San Bernardino-Ontario, CA) of the top 25 spots among large metros. The Bay Area in Northern California consistently shows economic excellence powered by high value-added industries.
Biggest Gains
Recent rising demand in energy and natural resources, such as coal and natural gas, uplifts several resource-dependent metros in our index, including Tuscaloosa, AL; Grand Junction, CO; Odessa, TX; and Wheeling, WV-OH.
The Wheeling, WV-OH, metro is the biggest gainer among all metro areas in our index, jumping 111 spots to 70th place.
Other big gainers include California-Lexington Park, MD, and Clarksville, TN-KY, two regional economies anchored by the defense industry.
Still, other big gainers, including Sebring, FL; Carson City, NV; and Kingston, NY, have health care, retirement communities, and tourism driving their economic growth.
Source: https://milkeninstitute.org/reports/best-performing-cities-2020
Did you know that 9 of the most destructive and deadly wildfires in California history happened within the last 5 years? Unfortunately, the reality is that wildfires are on the rise and they are burning hotter, faster and more unpredictable than ever before.
The good news is that there are many measures that you can take to reduce the risk of a wildfire spreading to your home. Spring is a great time to start building in defensible space around your home as the ground is still wet and wildfire danger is low.
Taking the necessary precautions now can save your most valuable investment should a wildfire affect your area. Wildfires can spread up to a mile away by flying embers in the air. The embers travel by wind and create new fires in different locations where they land. That being said, creating a defensible space around your home can not only save your property but possibly the entire neighborhood or town you live in.
Many areas are now requiring that prior to the close of a home purchase, a defensible space inspection be administered by the local fire department to ensure the property has been cleared of debris and other factors that make your home more vulnerable to the risk of catching fire. Truckee is now on this list and it is required that a recent inspection (within the last 3 years)  be completed before the close of the sale of a property. Although this may seem to be just another hurdle to jump through when trying to buy or sell a home, with the imminent threat of wildfires increasing yearly, it is an incredibly effective measure the community has taken to help protect you and your family.
You can find more information and a list of the most significant steps you can take to help ensure your home is as effectively protected as possible if a wildfire should strike at
Truckeefire.org and www.readyforwildfire.org.
Source: https://oliverlux.com/got-space-how-defensible-space-can-save-your-home/
With the arrival of Spring the selling season is upon us. Many of you now thinking of selling your home and preparing the Home for a quick and successful sale is crucial. Here are a few tips to help you out.
A marketing plan on WHO your buyer will be is essential as this will help you decide who the target buyer is. This will influence the staging process.
Boost curb appeal. This is something you always hear, and with very good reason. Many people thinking of touring your home will do a quick drive-by first, often deciding on the spot if it is even worth a look inside. Make sure your home is ready to lure in onlookers with these tips:
○ Power wash siding and walkways
○ Hang easy-to-read house numbers
○ Plant blooming flowers and fresh greenery
○ Mow lawn, and reseed or add fresh sod as needed
○ Wash front windows
○ Repaint or stain the porch floor as needed.
A clean home is essential! Remove all excess furniture to clothing. Make your home feel as spacious as possible.
Depersonalize your home. Once a person has stepped into your home, you would like them to feel that it could be theirs. Remove all family photo's and neutralize the home as much as possible. A clean palette is always good as the buyer can then see their possessions in the home. Neutral colors are best as it is also very soothing.
Return all rooms to their intended use. If a bedroom is now an home office change it back to the bedroom and stage it as one.
Style your dining room table. The dining room is often a blind spot in decorating the home. Between dinners, a large dining table can look bare and uninviting, so styling it up with visitors in mind can increase the appeal.
Create a gender neutral master bedroom. Appeal to everyone with a clean, tailored master bedroom, free of personal items and clutter. You can't go wrong with clean, crisp linens, tasteful artwork and a blanket folded at the foot of the bed. Bathrooms must be pristine. Look at every detail with a visitor's eye — bars of soap should be fresh and clean, towels spotless, the garbage always emptied.
Beware of Pet odors: This can be a big one! If you have pets, get all rugs steam cleaned and be extra vigilant about vacuuming and washing surfaces. Also be sure to keep any extra-loved pet toys and doggie bones hidden when tours are scheduled.
Finally, if you find this difficult to do there are professional home staging companies that one can hire to help you out. GOOD LUCK
"Reno is growing up from a big town into a city that's emerging as a world player," Lehmann said. "Reno is changing and becoming a different type of city and it needs to step up to that challenge." Lehmann was the key speaker at a luncheon held by EDAWN.

For nearly a century, Reno took pride in being the Biggest Little City in the World. As a growth spurt brings in skyrocketing housing costs and a host of other challenges, however, some say it's time for Reno to start thinking, well, big. Lemann who founded the Future Cities Leadership Lab and serves as the director of the University of Nevada, Las Vegas School of Architecture says Reno's problems are nothing new. We know the problems but finding a cure it much tougher. "One of the top issues is housing," said Mike Kazmierski, president and CEO of the Economic Development Authority of Western Nevada. Although Reno still has the advantage of short commutes compared to Silicon Valley and the Bay Area, space for new housing remains a problem, EDAWN's Kazmierski said. To figure out why, one only needs to stand anywhere in Reno and look around. "We've got mountains all around and most of the easy, available land has already been built on," Kazmierski said. "We also have a lot of BLM land around us so it's not like we have a bunch of land nearby that we can just expand into."
Lehmann agreed and also points to insufficient housing supply, worsening housing affordability, congestion at the Spaghetti Bowl which can be traced back to a shift in community development several decades ago.
Expanding farther away from the city center also comes with added costs, according to Lehmann. That's because doing so comes with the need to build new sewer lines, utility connections and other infrastructure while also providing additional public services such as police and fire stations. Single-family housing also typically costs more per dwelling than multi-unit projects, resulting in pricier homes.  Some of the solution Lehmann suggests are, focusing less on sprawling single-family developments and doing more infill projects to increase housing density. Examples include multi-unit housing projects such as duplexes, bungalow courts and townhouses. Such units are part of what's called the "missing middle," residences that range from two to 50 units that increase housing density and are geared toward urban living.
By mixing such developments with retail and office spaces, Lehmann says you can create more synergistic communities that are not only more walkable but easier and cheaper to connect with via public transport.
Claudia Hanson who is the planning and Housing manager for the city of Reno said changes have been made in the last decade to increase housing density in several key areas. The changes include mixed zoning districts in the downtown core as well as key transportation hubs such as the transit corridor from Meadowood Mall to the University of Nevada, Reno. In addition to essentially allowing unlimited housing density in those sections, the changes eliminated a lot of the requirements that were slowing down projects, Hanson said. This made it possible for certain projects to go straight to permitting without having to go through the public meeting process. "The goal was to revitalize the downtown core … and also help slow down development on the fringes of the city so we can get higher density in the transit corridors," Hanson said. Hanson, however, says it is also important to apply high-density zoning selectively and appropriately. Although the city is exploring mixed zoning options to increase density — albeit to a lesser extent than downtown — in some areas in northwest and southwest Reno, it does not believe it is a good idea to have unlimited density right next to single-family residential zoning.
"Every city that grows has a housing challenge, it's not unique to Reno," Lehmann said. "Now is the moment to act and get it right. I'm talking about quality density, not that nasty density gone wrong in the past that everybody hates. You don't want to wait until it's too late and the situation has changed." At the same time, EDAWN's Kazmierski admits that growth is a touchy subject. There are people, for example, who like the small-town feel of the Reno that they grew up in. Residents who already have homes also might not be able to relate to the challenges faced by people who are having difficulty finding housing right now. Add politics and the logistical challenges that come with addressing growth and you end up with complicated problems that can't be solved easily Kazmierski said.
Hanson from the city of Reno agreed. "It's a balancing act."
Great news for skiers in the Reno area!

Mt. Rose Ski Tahoe wants to increase terrain by 20 percent, more than 100 acres of skiable terrain by adding a chairlift and runs across Mt. Rose Highway from the main resort.
The new terrain, referred to as the Atoma Area, would include 11 new ski trails, two lifts, and restrooms. Installation of two chairlifts: one to provide the return trip from the Atoma Area to the main ski area will be approximately 1,650-feet-long and crosses Mt. Rose Highway directly above the skier bridge and one approximately 3,000-foot-long to service the terrain within the Atoma Area
Construction of an approximately 130-foot-long skier bridge spanning the Mt. Rose Highway, which would provide a skiable connection between existing terrain at the main ski area and proposed terrain in the Atoma Area. The bridge would have a minimum clearance of 18 feet from the highway and a minimum width of 30 feet to safely accommodate a variety of abilities. The new runs would also be shielded from wind by trees and terrain, making them more attractive during stormy or windy conditions. Mt. Rose Ski Tahoe is well known for its abundance of advanced and expert terrain; however, it struggles to provide a full extent and variety of lower-ability level terrain. Additionally, a majority of the lower-ability level terrain that is currently offered is shared by upper-ability level guests, which impacts the experience of these users.The trails in the Atoma Area would provide a unique skiing experience, separate from other users at the resort, improving the skier experience, skier distribution, and skier safety throughout the permit area. The trails were planned to make the best use the available topography while providing a unique experience for the lower-ability level skier
Mt. Rose spokesman Mike Pierce said the new terrain will be suitable for beginner and intermediate skiers and snowboarders who aren't quite ready for Mt. Rose's steeper runs. The snow making capacity will also be upgraded by adding additional water storage.
Mt. Rose Ski Tahoe is located on private and National Forest System land on Slide Mountain in the Carson Range of the Sierra Nevada Mountains, approximately 25 miles south east of Reno, Nevada.
Pierce said the project could be completed as soon as 2023.

The City of Reno continues to rebound from the effects of the Great Recession. Property values are increasing, the population is growing, and Reno has been named one of the ten most livable mid-sized cities in the United States. While Reno's economy for most of the 20th century was primarily centered on gaming and entertainment, it is now diversifying into a much broader base which spans healthcare, entrepreneurial startups, and technology-based industries. The constant flow of tourists, both for the casinos and for the skiing in the surrounding Sierra Nevada mountains, helps keep the economy flowing and provides a stable audience for concerts, events and cultural attractions. It helps maintain the city's reputation as the "biggest little city." Every August, Reno is also a gateway to the Burning Man Festival, a week-long art event based on radical self expression and reliance in the Black Rock Desert. Baseball fans can catch games at the Reno Aces Ballpark, while skiers can hit the slopes at the nearby Mt. Rose Ski Tahoe, a 10 minute drive from Montreux Golf & County club, a Jack Nicklaus Signature Golf course.  Out door activities include biking, hiking, skiing, boating at Lake Tahoe and the other surrounding lakes. Montreux backs up to Toiyabe National Forest the largest in the USA besides Alaska.
Nevada has no corporate or personal income tax, and is a right-to-work state.
Reno's median home price has hit the $400,000 milestone. Keep in mind that the $400,000 median home price is for Reno, NV only, and does not include Sparks, NV. The median home price in Sparks is $344,000. Combined, the Reno-Sparks median home price is $375,000 (March 2018). Only 132 of the homes on the market today have asking prices under $300,000.  If you are buying in this market, you will want to be pre-qualified with a lender before heading out to look at any homes in the lower price ranges, as homes quickly go into contract after hitting the market. For homes priced below $300,000, we have only 15 days of inventory. With an inventory of 3 months, the $600,001 to $900,000 price range is firmly in seller's market territory like the lower price ranges. For properties in the $900,000 to $1,500,000 range, the inventory has increased to 5.3 months. This price range represents the most balanced market between sellers and buyers. For homes priced over $1,500,000, we have a 13.6 month or a 1.1 year supply. The National Association of REALTORS considers 5 to 6 months of inventory a healthy market, where neither buyers nor sellers have a distinct advantage.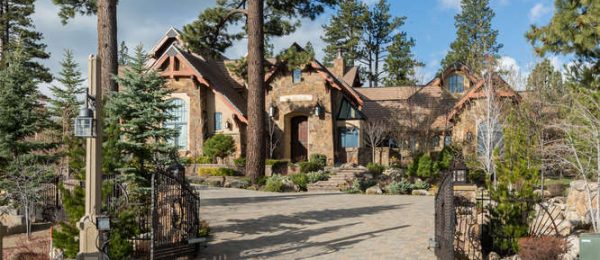 The following information is regarding the pictured Feature Property.
– Luxury Property located on 2 nd  fairway
– $3,900,000
– 6 Bed / 5 Bath /  2 Half Bath/ Office 3 Car Garage
– 0.98 Acre with Mountain, Golf and Mount Rose Views
– 8,247 Square Feet
– Click Picture for More Details
Location, Location, Location!: 6825 De Chardin Lane  SOLD
This luxurious custom built home within the exclusive gated community of Montreux Golf & Country club sits on the 2nd fairway that was built by Jack Nicklaus, a signature golf course.  A mere 20 minutes from famous Lake Tahoe, immerses one in nature while being close to the conveniences of Reno/Tahoe. Just 15 minutes from Reno/Tahoe International airport and 10 minutes to Mt., Rose Ski Resort. This stunning home is tucked away just below the snow-capped views of Mt. Rose, where fresh air and the smell of crisp Ponderosa pines awakens you in the morning. All year round activities  including world class skiing, hiking, biking, fishing and boating. Contact Louise Simpson for more information.  775-750-1901
Home Features:
Built in 2007
Double story with master  bedroom on main level
Travertin, carpet and wood floors throughout
Separate art or yoga room
Radiant heat throughout
Heated Drive way
Huge game room upstairs with pool table, card table, bar & seating area, and incredible beam work/.
Indoor/outdoor room with receding glass doors complete with  kitchen, pizza oven, barbecue, deep fryer and dishwasher.
10 seat theater with quality acoustics and multiple speakers for a truly immersive experience
Fully Landscaped Property
Huge spa with eternal flame that drains into the master bathroom
Huge courtyard as you enter home with outdoor patio & firepit
Electronic package by Sierra Integrated systems, Lutron lighting and Creston whole home control system, audio video systems installed throughout the home
ADDITIONAL PROPERTIES FOR SALE IN MONTREUX:
 ACTIVE HOMES ON THE MARKET IN MONTREUX
STREET
BUILT
SIZE
SQ. FT.
PRICE
TYPE
GARAGE
BED
BATH
 6365 Wetzel
 2001
 0.18
 2262
 $1,0100,000
 Cottage
 2
 3
3
 16860 Salut Court
 SPEC
 0.56
 3558
 $1,650,000
 Home
 3
 3
3
 16885 Rue De Parc
2004
0.80
3,838
$1,398,000
Semi Custom
4
3
16956 Rue De Parc
2005
0.61
3,838
$1,480,000
Semi Custom
 4
 3
4
  5795 Clarens Court
2000
0.51
4,062
$1,595,000
 Custom
 3
 3
4
  6005 Gauguin
2005
0.70
3,576
$1,350,000
 Custom
 4
 3
4
  5024 Bordeaux Court
2019
0.57
3,297
$1,680,000
 Semi Custom
 3
 3
3
 6574 Champetre
2005
0.27
3,047
$1,725,000
 Custom
 3
 3
4
 5084 Bordeaux Court
2019
0.54
3,429
$1,750,000
 Custom
 3
 3
5
 5036 Bordeaux Court
2019
0.49
4,045
$1,835,000
 Custom
 3
 4
4
 5860 Lausanne
 1998
 0.94
 6583
 $2,9000,000
 Custom
 4
 5
5
 Custom
 3
 6
5
5730 Dijon Circle
2002
0.54
4,399
1,895,000
 Custom
 3
 4
5
5920 Lausanne Drive
1999
1.26
5.791
$1,899,000
 Custom
 6
 4
4
  6745 De Chardin Lane
2014
0.64
4,512
$2,125,000
 Custom
 4
4
6
20307Bordeaux Drive
2004
1.82
4,677
$2,295,000
Custom
4
4
5860 Lausanne Drive
1998
0.94
7,067
$2,900,000
Custom
5
4
 6795 De Chardin Lane
2009
0.64
5,350
$3,249,500
Custom
3
3
5625 Foret Circle
2001
1.00
9,581
$4,995,000
Custom
5
4
5635 Foret Circle
2002
1.08
9,100
$5,950,000
Custom
4
4
Renown Health announced recently that a new partnership with Stanford Medicine has been made.  This is truly and game change for the Reno medical arena.  It makes Northern Nevada better in a multitude of ways that our community should celebrate and strengthens the world class reputation that the Reno area is cultivating.
The area has world-class skiing and other out door recreation with miles of hiking and biking as well as attracting a world class technology sector with Telsa, Apple and Switch to just mention a few… that have moved to the Industrial park just East of Reno. Desert Research Institute and the University of Nevada, Reno's seismology lab are among the top research institutes in our area.
Now this region has increased access to the Stanford Health Care system, including its Lucile Packard Children's Hospital, ranked last month as one of 11 exceptional children's hospitals in the nation by U.S.News & World Report.  In the past over $40 million worth of medical care has been spent in residents seeing out-of state specialists and another $20 million on Travel, lodging and related expenses according to Renown analysis. Renown expects that academic affiliations between Renown and Stanford University will increase the number of specialists who train and provide care in Northern Nevada. More residents will be able to get care here because of telemedicine opportunities with Stanford doctors.  Nevada suffers from a doctor shortage and this opportunity is going to help the situation.  With this partnership hopefully doctors that train in our area will now stay permanently in the short and long term.
At present Renown's Hometown Health plan insures about 135,000 people, most in Reno-Sparks. Specialty and sub-specialty care at Stanford facilities will be covered in -network by the plan. This can mean huge savings for treatment not available here for a child with cancer or anyone needing a heart transplant, for example.  Well done to all those involved in making this happen  for us who live in Reno.
Many of us might not know, but one of the oldest spa's in Nevada is a mere 8 miles down Mount Rose Highway from Montreux and the surrounding area. The road in front of Steamboat was once the Lincoln Highway, the 1st highway built in the United States. It went as far as Chicago.  In 1849 Winnemaca war chief of the Paiute Indians stationed their winter camp along the banks of Steamboat springs.  Indians traveled as far from Mexico to come to Steamboat Springs as it was considered a Sacred Grounds and camp in the foothills of Steamboat Springs. The Indians used the hot springs to cook their pine nuts while in 1849 settles were parboiling entire oxen in the hot springs. The well at the springs was named "Chicken soup" as the water was supposed to have a taste of chicken soup.
James Cameron discovered the Springs in 1859.  A sticky, black goo on the other side of SteamBoat was to be full of gold and silver which brought many miners to the area.  In 1862 Dr Ellis built a 34 bed hospital along with 7 baht houses. He was from Austria and had studied under Sebastian Kneipp a renowned Doctor in Hydrotherapy and practiced healing with herbs.  This was the first hospital in the world outside Austria to apply theses techniques and was considered advanced for the times.  Unfortunately there was a fire and in 1863 the resort was rebuilt as was the hospital.
Mark Twain came often to the springs to soak in the hot tubs as it was thought to help with rheumatism among other ailments. Dr Ellis made a concoction called "The Wake up Jack," mixture which Mark Twain tried and for 48 hours said his stomach had never had such a scourging and would never take it again even though he felt wonderful after the three day ordeal. Once again the buildings burnt down and now it was owned by a Mr. Cullins who severed his relationship with Dr. Ellis.  In 1873 Mr. Cullin's fell into the hot springs while building a new bath and died within 7 days as he was boiled alive. His widow sold the springs in 1874.
In 1878 construction of the Steamboat Irrigation Canal began.  A 34 mile long ditch originated above Verdi on the Truckee river to just south of the resort.  It still functions today.  President Ulysses Grant steamed into Virginia City and stopped off at the resort.  Unfortunately an earthquake on December 10th 1900 caused the hot Springs to dry up.  In 1918 Dr. Edna J Carver took possession and drilled new wells resulting in a sprouting 30 ft geyser, ending the dry spell.   The Spa was plagued by fire many times and in 1974 it was placed under the national Historical Register and a marker was placed along US Highway 395 S.  In March of 1996 the spa was reopened to the public and is run by a non-profit organization  – International Community of Christ, Church of the second Advent.
The waters at the Spa have a generous amount of minerals in them.  To mention a few, Silica, Sodium, Lithia and Lithium.  I have personally been many times and really enjoy the warm water and its healing power.  The Spa is located at 16010 S. Virginia street, Reno NV 89521 and the phone number is 775-853-6600.  www.steamboatsprings.org.
During our recent downturn , the recession also affected the commercial real estate in Reno.  Industrial, office, and retail were not immune to what is called today the worst recession in Nevada's history. The good news is that with Northern Nevada seeing increased economic activity, including the arrival of some high-profile companies, commercial real estate in the region is seeing a rising tide effect, according to industry watchers.
Some of the companies that once existed are no longer around anymore, like Circuit City and Good Guys. Vacancy for retail in Reno-Sparks peaked at 17.3 percent in the first quarter of 2013, according to commercial real estate service firm CBRE Inc. Since then, the vacancy rate has gone down to 12 percent in the first quarter of this year. A vacancy rate of 7 percent to 8 percent is typically considered healthy for retail. Reno's Central/Airport market, which includes the surrounding areas of Reno-Tahoe International Airport, continues to post the highest vacancy rates in the area at 24.2 percent.
Since last year we have already exceeded the retail market with a strong first quarter in 2016 with a net absorption or available space that has been filled, totaling 192,188 square feet, according to CBRE's latest quarterly retail report. Retail also posted one of the biggest job gains for the state in March, helping lower the state's jobless rate to 5.8 percent for the month, according to the Department of Training, Employment and Rehabilitation.  Due to an overabundance of supply the construction of new commercial property is still stagnant, however there is a demand for improvement to existing centers such  as the  19,500 square-foot expansion at the Outlets at Sparks, also known as the Legends at Sparks Marina.
It is the Industrial segment that has really boomed in Northern Nevada.  What with Telsa Giga-factory and Switch's Super NAP-the world's largest data center once finished, as well as the news that Rackspace is looking at our area, has given our area a much needed boost on the technology side as well as some corporate cred. Dermody Properties, for example, has broken new ground on its LogistiCenter I-80 West speculative project at the Boomtown area just behind Cabela's. The 800,000-square-foot project will feature four buildings and focus on tenants ranging from 30,000 to 200,000 square feet, said Eric Bennett, first vice president at CBRE. "This will be the first speculative project built in west Reno to take advantage of the mature labor market in northwest Reno and the close proximity to California," Bennett said. Distribution accounted for 70 percent of all transactions in the fourth quarter of 2015, according to Colliers International. "At the end of the day, it's packers and pickers," said Greg Shutt, a vice president with Colliers International. "It's logistics." Bennett also pointed to sizable expansions such as ITS Logistics' 625,500-square-foot facility and pet item supplier Chewy.com's 566,600-square-foot facility, with several more announcements expected during the second quarter.
Office space has been relatively flat in 2016. Rents have been rising for the last two years consistently and it will probably take another two and a half years  for a healthy market to emerge. The three dominant markets for office in the area are downtown, Meadowood and South Meadows, each with their own niche tenants from related industries, said Tim Ruffin. ( Executive vice president at Colliers International)
Looking ahead, the trends look positive for the area, commercial real estate watchers agreed. Reno-Tahoe International Airport added several new flights and routes while also posting its first passenger growth in a decade in addition to record cargo hauls. Nevada also was the No. 2 most popular destination for movers in the West according to United Van Lines' 2015 National Movers Study.
For Northern Nevada, a big part of it involves the national attention gained from big economic development wins such as the Gigafactory, Ruffin said.
"The whole perception of investing in Reno has changed," Ruffin said. "The expectations from Tesla haven't materialized yet but investors are coming in because of the perception."