Homes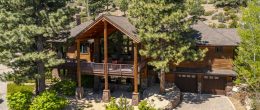 – Luxury Property located St James Village
– $3,250,000
– 4 Bed /3 Bath /  2 Half Bath/ 2 Offices 4 Car Garage
-1.92 Acre with Mountain Views
-5,031 Square Feet
– Click Picture for More Details
Location, Location, Location!: 38 Bennington Court
Nestled in the pine and aspen trees of St. James Village on 1.92 acres, a spacious mountain paradise with expansive views and breathtaking sunsets, wonderful wildlife encounters and outdoor adventures like no other is this magnificent Lodge Style home. The Main floor centers around the great room open to a spacious kitchen with top-of-the-line appliances; kitchen nook, formal dining room, master suite with heated floors in the master bath/shower, 2 home offices, 2nd bedroom/exercise room and powder bath. The large, covered deck and back patio with built-in barbecue grill and hot tub, provides the perfect area for entertaining and relaxation. Totally private. There is also a large two car garage on the main level. The downstairs centers around a Rec room with a full bar, wine cellar,2nd home office,2 bedrooms and 2 bathrooms and walk-out patio. An additional two-car garage and huge storage area finishes out the home. Laundry has a shower to wash your dogs and a doggie door out to a closed in area. Brown's Creek Trail in your back yard, 10 minutes ski resort, 25 minutes Lake Tahoe, 20 min International Airport.
Call or email me at  775-750-1901 or louise@montreuxreno.com
Home Features:
Built in 2004
Double story with master  bedroom on main level
Travertin, carpet and wood floors throughout
2 Home offices
 1.92 Acres in a private gated community of St James
Huge game room Downstairs with  bar & seating area.
 Wood burning fire place & 3 gas
 Spa
 Doggie shower and door to closed in area.
ADDITIONAL PROPERTIES FOR SALE IN MONTREUX:
| | | | | | | | | |
| --- | --- | --- | --- | --- | --- | --- | --- | --- |
| ADDRESS |  BUILT |  SIZE | SQ. FT. | PRICE | TYPE | Bed | Bath | Garages |
| 5740 Dijon Circle | 2005 | 0.81 | 3,499 | $1,794,000 | Custom | 4 | 3 | 3 |
| 20605 Parc  Foret Dr | 2015 | 0.32 | 3,120 | $1,950,000 | Semi Custom | 3 | 3 | 3 |
| 6640De Chardin Lane | 2013 | 0.68 | 3,264 | $2,050,000 | Custom | 3 | 3 | 3 |
| 16840 Delacroix | 2007 | 0.53 | 3,482 | $2,085,500 | Semi Custom | 3 | 3 | 3 |
| 5192 Bordeaux Court | 2023 | 0.72 | 4,200 | $2,605,000 | Semi Custom | 5 | 5 | 4 |
| 6554 Champetre Court | 2007 | 0.24 | 3,994 | $2,950,000 | Semi Custom | 3 | 3 | 3 |
| | | | | | | | | |
| 20700 Parc Foret | 2016 | 0.55 | 5,236 | $3,199,999 | Semi Custom | 5 | 5 | 3 |
| 5500 Lausanne Drive | 2018 | 0.65 | 4,698 | $3,745,000 | Custom | 4 | 4 | 3 |
| 5223 Nestle Court | 2002 | 0.83 | 4,925 | $4,500,000 | Custom | 3 | 4 | 4 |
| | | | | | | | | |
| | | | | | | | | |
| | | | | | | | | |
| | | | | | | | | |
| | | | | | | | | |
$$4,499,000 (+/-)
Rents in the Reno-Sparks area have once again in the fifth quarter in a row increased. The average rent for an apartment reached $1,6o7 during the second quarter of this year, a record-breaking trend that has continued since the second quarter of 2020. Due to the strong demands of renters who are already struggling to find affordable homes in this market, this is bad news. The single family home in the Reno-Sparks area remain at a record high of $530,000 in September, according to the Reno/Sparks Association of realtors.  I personally have seen some leveling out in the past couple of months but it still remains a sellers market if the home is not overpriced.
Most of the new renters, about 40% are coming from the California area. Mainly to get away from California  and Reno being  more affordable.  Vacancies are below 1% in 3 areas in Reno. The Northeast, Southwest and West Reno.
"Just over 4,000 apartment unites are currently under construction in the Reno – sparks market, with over 5,900 unites in the planning stages," the Johnson Perkins Griffin report said.  "Due to the Covid-19 pandemic, it is likely that development of planned unites will be delayed in the short term, until the ultimate impact of the pandemic is know."
The big question is to buy or not to buy? Where in the past if something came on the market it would virtually disappear right away and there would be multiple offers on the table. People where not doing inspections and willing to pay above appraisal value.  However today inventory is slightly higher but not as intense as it used to be and not as many multiple offers on the table. It might be a good time now for buyers to once again start looking.  Interest rates a still low, however there is talk that in the near future they will be going up.  Inflation could become a concern as the costs of goods and gas continue to increase, the Feds might raise interest rates to counter act this.
I have seen homes in the luxury market sitting longer than usual on the market. I do believe this is due to the fact that many are over priced and due to the holidays sales will decline a little,however  in the New Year will once again surge… what with Nevada being a tax friendly state and our incredible outdoor life we have here.
Industry analyst Brian Bonnenfant said he's "definitely" seeing real recovery in the region's long suffering housing sector.  April home prices jumped more than 20 percent compared with last year in the Reno/Sparks market, according to a report.  Once again we believe this is true due to the inventory of for-sale homes being so limited.  As a result this has also affected New home sales.  About 300 new homes were sold, a 150 percent increase, compared to the first quarter of 2012, said Bourdeau, who is a real estate agent with Keller Williams Realty Group One.
As a result of what is happening to the market in the Reno/Sparks area, we have seen a drop in the unemployment to fall below 10%, down from 14% during the recession.  Washoe County's taxable sales have also increased for three consecutive months in Nevada.  We also had the highest home appreciation in the nation at 24.5 percent.
In little more than 2 years, Washoe's median sales price has risen more than 60 percent from its recession low of $135,000 in January 2012, but it is still well below the pre-recession high of $350,000 in the third quarter of 2005. Today the median sales price of a home is $222,000 in the Reno area.  Washoe median sales price is $218,000 and Sparks is $195,000.  Many buyers now have higher qualifications guidelines and we are seeing tons of cash where last time there were a lot of people who really should't have been buying.
With low inventory of homes for sale and a growing buyers market we expect to continue this trend.  This might be the right time for sellers to consider listing their homes.  In Montreux we are seeing lots once again selling  to buyers  who cannot find a luxury home that suites them and are choosing to build their dream home.  Our inventory is so low with only 15 homes on the market at present.
For the first time the Reno's housing market has joined the growing list across the country of metropolitan areas recovering from one of the worst housing crises in decades.  It continued to show improvement in January.  Reno has seen a 4.7 percent growth in building permits since its low in June 2009, a 12.3 percent increase in home prices since February 2012 and a 3.3 percent improvement in employment since February 2012.  All good sign's that we are once again moving towards a healthier market.
A limited sales inventory of existing homes – has increased the median sale price, according to  the Reno/Sparks Association of Realtors February report. In January 2012 the median home price was $135,000, today it has jumped to $182.500.  It has also been noted that over 4,000 new Reno/Sparks homeowners no longer had "underwater" attached to their homes during the fourth quarter of 2012, according to a report released Tuesday by analytic firm Corelogic.  Negative equity, also known as being "underwater" or "upside down, means that the homeowner owes more than their home than it is worth.
Nevada's state attorney general and the head of a Las Vegas nonprofit consumer counseling agency unveiled a program and an advertising campaign on Monday aimed at giving distressed  homeowners facing foreclosure a free one-stop place to seek counseling, referrals and legal support.   This program is to help those residents facing foreclosure or have lost their homes, as well as those seeking loan modifications or who are current but underwater on their home loans.  It will also help people who are working toward home ownership.  Money for the Home Again program comes from $57 million Nevada received from five of the nation's largest banks as part of a national foreclosure settlement last February.
Online magazine 
Business Insider
 recently reported that Reno, NV ranks among the top U.S. housing markets where prices are expected to rise the most in the next five years.  Nevada's state capital, Carson City, also made the grade.  To read the entire story, please visit:  
The 15 Best Housing Markets For The Next Five Years
.
I had the pleasure last weekend to take out 2 clients to show them property in the Arrowcreek, Galena Forest, Scotch Pine, Saddlehorn and Montreux areas.  We saw at least 30 homes and about 6 lots.
ArrowCreek has some incredible buys with a few foreclosures and a number of Short Sales. Lots have great views of down town Reno.  29 Rabbit Brush Ct. is a FORECLOSURE, 5,288 sqft, $683,000 and lovely views of the mountains, a great deal…I loved 1055 Indian Summer Court, modern, simple and great views of down town as well as a great price, this home is a short sale.   There are many more, so feel free to contact me and I will send you a list.
Saddlehorn is one of my most favorite places in Reno, family friendly with lots of hiking trails and one that connects to the Whites Creek trail as well.  We saw at least 4  homes there ranging in price from $500 to $900 thousand. 4195 Wild Quail Court, $4,542 sq ft $850,000 was one of my favorites.
Moving up to the Montreux Golf and Country Club area, we saw numerous lots,  good prices and a number of nice homes in Montreux.  One cottage 6365 Wetzel Court, 2,259 sq ft is going up for auction at Montreux on January 25 at 10.30 am.  Opening bid is $50,000
The one home in Galena Forest Estates on 145 Twinberry Circle is fantastic, must be a 2nd home as it looks brand new and is furnished so tastefully, I would include the furniture in what ever I offered for the home… 3,800 sq feet, asking price $799,000.  Another beautiful home in Galena is 1670 Green Ash Rd, 7,166 sqft, $1,700,000 1.67 acres and a 4 car garage, single story and HOA fees are only$17 per month.
Scotch Pines has great lots forsale and the one home on 102 W Jeffrey Pine Road, which  is a FORECLOSURE, is lovely however needs some work, quite modern inside, simple and views of down town.  Then there is 208 N Big Sage Lane 4,505 on 1 acres for $1,250,000.  This home feels like you are one with nature as the outside flows  into the home with its large windows and forested setting.   All in all it was a great weekend and I had a happy more educated client at the end of the 3 days.
If you or anyone you may know have real estate questions or inquiries in the Montreux, Galena Forest, ArrowCreek, Saddlehorn, St. James or Scotch Pines areas, please contact Louise Simpson by email at louise@montreuxgolf.com or by cell at (775) -750-1901.