Golf Course View
Nevada was the most moved-to state in early 2021
Reno has became the top state with the highest share of cash sales in the nation so far this year. 51% of home sales in Reno where cash sales. Nationwide, the share of cash sales was 20%. This speaks for itself on our market here in Reno where cash is king and homes sell in days, or even hours, and usually have multiple offers. Will Reno reach $600,000 for the median price of a single-family house this year? That's the question among real estate watchers as The Biggest Little City posted yet another record for the median sales price of an existing single-family home in May. Reno posted a May median sales price of $550,000, up by 9.6% from the previous month and a whopping 29.1% jump year-over-year, according to the Reno/Sparks Association of Realtors. It also beat the previous record of $515,000 set in March. The numbers are for  existing single-family homes. "The inventory of homes for sale continued to tighten during May," said Gary MacDonald, RSAR president. "The active inventory at the end of the month declined by 13% and stood at 300 homes — well under a month's supply at the current pace of sales." It is my belief that if you are not very familiar with the area, I recommend renting before buying.  While it may be tempting in this current market to buy first, getting a better idea of the market before making such a major investment can be a great idea. Even if you just find out which neighborhood you prefer, having 12 months or so of insight can be very helpful. The only problem you might have in the Reno area is that it is very difficult to find rentals.  The luxury market is out of hand as well. Montreux Golf and Country Club a private Jack Nicklaus Golf Course has 2 homes on the market at present. I listed a home a few weeks ago in Montreux at 11.30 am for $2.5 M  and by 7 pm that evening I had a cash offer.
Incline Village and Crystal Bay closed this spring by tripling its medium home price as Lake Tahoe's hot luxury market shows no sign of abating. The medium home sale in Incline was $2.53 million. People are choosing to live in Nevada because our friendly tax environment as well as moving away from the big cities due to the pandemic, offering many the ability to telecommute. Homes priced at $2 million or more accounted for 40% of home sales in April, up from zero sales a year ago when the pandemic froze the luxury market.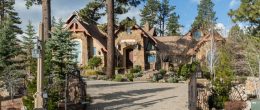 The following information is regarding the pictured Feature Property.
– Luxury Property located on 2 nd  fairway
– $3,900,000
– 6 Bed / 5 Bath /  2 Half Bath/ Office 3 Car Garage
– 0.98 Acre with Mountain, Golf and Mount Rose Views
– 8,247 Square Feet
– Click Picture for More Details
Location, Location, Location!: 6825 De Chardin Lane  SOLD
This luxurious custom built home within the exclusive gated community of Montreux Golf & Country club sits on the 2nd fairway that was built by Jack Nicklaus, a signature golf course.  A mere 20 minutes from famous Lake Tahoe, immerses one in nature while being close to the conveniences of Reno/Tahoe. Just 15 minutes from Reno/Tahoe International airport and 10 minutes to Mt., Rose Ski Resort. This stunning home is tucked away just below the snow-capped views of Mt. Rose, where fresh air and the smell of crisp Ponderosa pines awakens you in the morning. All year round activities  including world class skiing, hiking, biking, fishing and boating. Contact Louise Simpson for more information.  775-750-1901
Home Features:
Built in 2007
Double story with master  bedroom on main level
Travertin, carpet and wood floors throughout
Separate art or yoga room
Radiant heat throughout
Heated Drive way
Huge game room upstairs with pool table, card table, bar & seating area, and incredible beam work/.
Indoor/outdoor room with receding glass doors complete with  kitchen, pizza oven, barbecue, deep fryer and dishwasher.
10 seat theater with quality acoustics and multiple speakers for a truly immersive experience
Fully Landscaped Property
Huge spa with eternal flame that drains into the master bathroom
Huge courtyard as you enter home with outdoor patio & firepit
Electronic package by Sierra Integrated systems, Lutron lighting and Creston whole home control system, audio video systems installed throughout the home
ADDITIONAL PROPERTIES FOR SALE IN MONTREUX:
 ACTIVE HOMES ON THE MARKET IN MONTREUX
STREET
BUILT
SIZE
SQ. FT.
PRICE
TYPE
GARAGE
BED
BATH
 6365 Wetzel
 2001
 0.18
 2262
 $1,0100,000
 Cottage
 2
 3
3
 16860 Salut Court
 SPEC
 0.56
 3558
 $1,650,000
 Home
 3
 3
3
 16885 Rue De Parc
2004
0.80
3,838
$1,398,000
Semi Custom
4
3
16956 Rue De Parc
2005
0.61
3,838
$1,480,000
Semi Custom
 4
 3
4
  5795 Clarens Court
2000
0.51
4,062
$1,595,000
 Custom
 3
 3
4
  6005 Gauguin
2005
0.70
3,576
$1,350,000
 Custom
 4
 3
4
  5024 Bordeaux Court
2019
0.57
3,297
$1,680,000
 Semi Custom
 3
 3
3
 6574 Champetre
2005
0.27
3,047
$1,725,000
 Custom
 3
 3
4
 5084 Bordeaux Court
2019
0.54
3,429
$1,750,000
 Custom
 3
 3
5
 5036 Bordeaux Court
2019
0.49
4,045
$1,835,000
 Custom
 3
 4
4
 5860 Lausanne
 1998
 0.94
 6583
 $2,9000,000
 Custom
 4
 5
5
 Custom
 3
 6
5
5730 Dijon Circle
2002
0.54
4,399
1,895,000
 Custom
 3
 4
5
5920 Lausanne Drive
1999
1.26
5.791
$1,899,000
 Custom
 6
 4
4
  6745 De Chardin Lane
2014
0.64
4,512
$2,125,000
 Custom
 4
4
6
20307Bordeaux Drive
2004
1.82
4,677
$2,295,000
Custom
4
4
5860 Lausanne Drive
1998
0.94
7,067
$2,900,000
Custom
5
4
 6795 De Chardin Lane
2009
0.64
5,350
$3,249,500
Custom
3
3
5625 Foret Circle
2001
1.00
9,581
$4,995,000
Custom
5
4
5635 Foret Circle
2002
1.08
9,100
$5,950,000
Custom
4
4
$$4,499,000 (+/-)
The Reno-Tahoe Open begins today until August the 5th 2012.  Last night we had our 12th Annual Concert on the Green featuring the Reno Jazz orchestra and Musician, Director & Producer Way Wallace. The picnic began at 4.30 pm with free Salsa lessons by Dancin! Performing Arts Center and the music went on from 5.30 pm to 7.30pm.  The concert was sponsored by Dickson Realty, Ashley Quinn, Ticor Title, Montreux, Country Financial, Hometown Health and Parc Foret our newest Village at Montreux.
The weather was fantastic… we had over 500 attendees with their children enjoying the outdoors and the music.
Montreux is honored to be one of only 33 events that are part of the race for the Fed-Ex Cup.  Some of  the world's best players are right here for us to watch and learn from. This tournament not only provides a national window on our community and course, it lends credibility to the Jack Nicklaus Signature Golf course, further establishing it as a top-ranked course.
On Tuesday July 31st, Monteux Cares First Tee Day, are hosting 100 children, ages 7 to 18 to demos, pep talks and autographs by the players, the always fun "skill challenge" and lunch all hosted by Montreux Cares. Montreux Members children are welcome to come and enjoy or volunteer.  The First Tee is a non-profit youth development organization teaching life skills through golf-based programs.
Salute Our Troops Patriots' Luncheon will be held for the 3rd year in the Clubhouse and the featured special guest speaker last year was Commander Kirk Lippold, USN (Ret), the commanding officer of the USS Cole during the attacks in Yeman int he year 2000 in which 17 Americans lost their lives.  This year 2012 the speaker will be Scott Bill and Sgt. First Class Leroy Petry, a Congressional meal of Honor recipient.  This Luncheon, is presented by the Grand Sierra Resort as well as key sponsor U.S. Bank and Wells Fargo. Sold out event.
The Reno-Tahoe Open has been a generous contributor to the community of Northern Nevada, donating $2.2 million to various charities and schools over the last 13 years.
For more information on the event go to www.renotahoeopen.com.  Here are a few golfers that will be attending, Stuart Appleby,  John Daly, Chris DiMarco, David Duval, Justin Leonard, Rocco Mediate, Chris Riley and many, many more top players.