Reno Nevada's Scenic Mt. Rose Highway Plans Infrastructure Improvements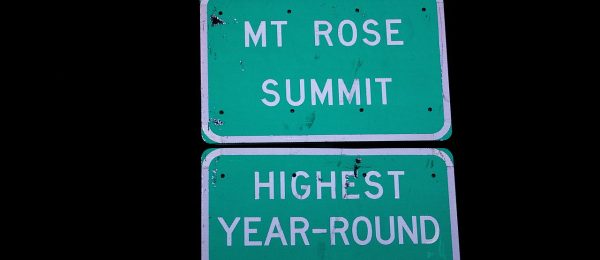 The Mount Rose Scenic Byway connects 23 miles of SR 431 from Lake Tahoe to Reno. The Mount Rose Highway reaches an elevation of 8,911 feet, the highest pass in the Sierra that is maintained year-round. Home to numerous developed and informal recreation areas, the Corridor is also rich in history and culture. Named the "Highway to the Sky" when construction began in the early 1950's, the Byway passes primarily through National Forest lands filled with exceptional beauty. Mountain peaks and valley floors, forests and meadows, a vast array of plants and animals, unusual geology and the dazzling splendor of Lake Tahoe offer the traveler something new behind every switchback.
In 1979 when we bought a piece of property in Galena Forest Estates, Mt. Rose Highway was a two lane road.  We built our home in 1984 and the nearest Food Market was Raley's, opposite what is is now called the Atlantis hotel.  Our big outing was to go to the The Flame, which was close to the bottom of Mount Rose Highway, a Cowboy bar where you could play pool and enjoy some shots. During the winter months when it snowed, it often became a one lane highway until they could perform snow removal. It stayed that way until 1997 when it was widened to a four lane highway from S. Virginia to the entrance of Montreux Golf and Country Club on Bordeaux Drive.
This scenic Highway climbs steadily from the high desert valley just south of Reno to the edge of the Sierras where the mountains rise steeply and the vegetation changes from rolling sage brush to rocky, forested slopes.  One passes Mount Rose ski resort which is perhaps the best kept secret in our area.  The base of the ski resort is the highest of all the ski resort surrounding Lake Tahoe, so it can often times open before other ski resorts and often times when it rains at other resorts, Mt. Rose gets snow.   Mount Rose summit has an elevation of 8,900 feet and then drops down into the Lake Tahoe basin, offering spectacular vistas over the majestic, mountain-rimmed lake.
Unfortunately with the huge growth in our area the average daily traffic on the valley section of the Mt. Rose Highway has grown from 15,000 vehicles daily in 2014 to nearly 23,00 in 2019. In the recent five-year period of 2015 to 2019, there were 248 crashes on the highway with numerous fatalities.  The Nevada Department  of Transportation (NDOT) is undertaking a corridor visioning and planning study along  Mt. Rose Highway from Geiger Grade Veterans Parkway roundabout to Douglas Fir Drive.  They will identify potential future traffic needs and improvements to provide for traffic accessibility and safety amid future development.  Excessive speeding has increased with approximately 80% of vehicles traveling more than 10 miles per hour over the speed limit on certain segments of the corridor, so changes are needed.
Following a recent road safety assessment, NDOT in 2022 will also add medium concrete islands and lengthen turn pockets on Rose Highway at Callahan Road, as well as reconfigure median islands and turn lanes to channelize and enhance left and right-hand turns between the highway and Edmonton Drive, which is one of the roads feeding Galena High School.
Photo Credit: Moabdave